Jenkins Independent Schools
Classes of 1912 - 2019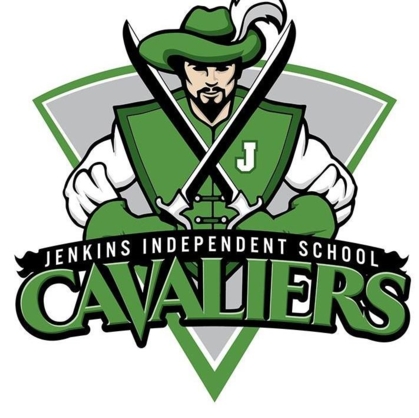 Welcome to the Jenkins High Classes Of 1912 - 2021 web site. Please join us to be added to the site the year that you would have graduated. You can offer any other information on your profile page that you wish to share.
JHS CLASS OF 1970
50th class reunion has been postponed because of Covid-19 concerns; it is rescheduled to the Saturday of Jenkins Days in 2022.
CLASS OF 1952
Thanks to Dick Blizzard for providing the photo and class members names.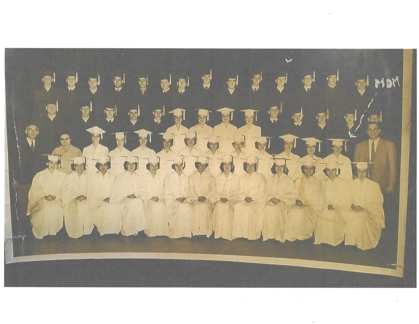 Back Row: Bobby Cantrell (Poss), Franklin Varson, Virgil Sweeney, Jerry Wetzel, Bill Jordan, Donald Stewart, Bobby Rose, Lawrence Baker,, Raymond Carswell, Jack Alsop, Dickey Blizzard, Thomas Phillips, Bobby Elkins, Mickey Prunty
Second Row from Back: George Varidy, Jonah Anderson, Jackey Brown, Ronnie Swindall, Billy Cleek, Brenda Watson, Patsy Bates, Danola Greer, Irene Bentley, Donald Varson, George Lundy, Hubert Blankenship, Roy Lee Phillips, James P Williams
Third Row: Mr. C. V. Snapp, Superintendent of Jenkins Schools, Mrs. Yates, Elizabeth Erwin, Margaret Lawson, Patsy Barker, Fanchon Hodges, Peggy Howe Polly, Ruth Anderson, Rachel Meddings, Naomi Hughes, Josephine Stapleton, Ruby Sizemore, Joann Farley, Mr. Wilson
Front Row: Marietta Crase, Mary Brewer, Phyllis Adams, Audrey Mullins, Doris Greene, Juanita Vanhoose, Nancy Powers, Dorothy Richardson, Vera Mullins, Betty Kegan, Jackie Pack, Rheta Gay Parks, Doris Ann Wojciechowski
Thanks to the Brush Family and the Greer Family for seeing this to completion.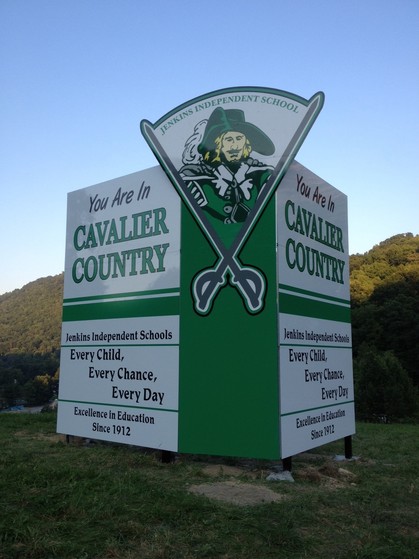 WELCOME BACK OLD FRIEND!
08/22/2012
Link to the Jenkins Independent School System Website
http://www.jenkins.kyschools.us/
Interview with Undertaker George McCoy
One of the sayings was that the company brought you into the world with the company Dr. (Dr. Perry) and took you out of the world with the company undertaker (George McCoy)
Article about the Clubs and Organizations of Jenkins
Interview with Bad John Wright
LINK TO 1973 JENKINS HISTORY BOOK
http://penelope.uchicago.edu/Thayer/E/Gazetteer/Places/America/United_States/Kentucky/Letcher/Jenkins/_Texts/HJK/D*.html
The Jenkins Education Foundation
The Jenkins Education Foundation is asking for your help. Since being established to help enhance the experiences of the students of the Jenkins Independent School System, the Foundation has been able to
help provide playground equipment for the Burdine Elementary building, and fund needed repairs and updates to the sports fields.
The Foundation is incorporated as a non-profit and has taken ownership of the football and baseball field from the Athletic Field Commission, which is no longer in existence.
The Foundation officers are the present elected school board members of the Jenkins Independent Schools and hold their meetings after the regular school board meetings on the fourth Monday of the month. The present members are : Sarah Brown, Chair, Brenda DePriest,Vice Chair, Eileen Sanders, Paulette Sexton and Chris Bentley,
If you would be interested in helping the Foundation please make your contributions to:
The Jenkins Education Foundation
C/O Sarah Brown, Treasurer
Jenkins Independent Schools
P.O. Box 74
Jenkins, KY 41537