Jenkins Independent Schools
Classes of 1912 - 2019
In Memory
John J Williams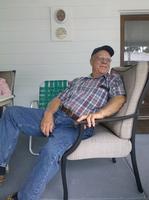 John James Williams, 74, of Dover, Florida, entered his heavenly home on Friday, December 14, 2018. The son of James M. Williams, Jr., American GI, and Doris Buddle Williams, British war bride, John was born in Abbots Ripton, Cambridgeshire, England, on June 3, 1944.

Many of John's fondest memories were of McRoberts, Kentucky, where he spent countless hours hunting and fishing with his dad. Although he moved from Kentucky at the age of 18, John loved retelling stories of special times with family and friends. Even though many miles separated them, he always cared deeply for his mother and 6 sisters. Without fail, he expressed his love for them.

He was preceded in death by his wife of 40 years, Geneva Ruth Williams; his father and mother, James Monroe Williams, Jr. and Doris Buddle Williams; his step son, John Charlton Oldham; his step son-in-law, Jimmy Salyer, and his nephew John Patrick Sanders. He is survived by his sisters, Eileen (Kedrick) Sanders of Jenkins, Kentucky; Evelyn (Bruce) Henderson of West Chesterfield, Virginia; Catherine (Gary) Tucker of Kingsport, Tennessee; Debbie (Jeff) Adkins of Pikeville, Kentucky; Virginia Sandusky of Whitesburg, Kentucky; and Doris Jean "DJ" Frazier of Whitesburg, Kentucky. He is also survived by a step daughter, Bertie Kaye Salyer, 5 grandchildren, 9 great grandchildren, 5 great great grandchildren, 11 nieces and nephews, and 8 great nieces and nephews. His jokes, laughter and endless conversation will be greatly missed by his many friends and acquaintances.

John was a member of First Freewill Baptist Church of Tampa, Seffner, Florida. He and his wife Ruth shared a life as the owners/operators of Oaklea Manor Motel and Apartments.

Visitation will be held on Tuesday, December 18, 2018 at 2 p.m., with services to follow at 3 p.m. at First Freewill Baptist Church of Tampa, Seffner, Florida. He will be interred at Dover First Baptist Church Cemetery, Dover, Florida.

Pallbearers will be Bruce Henderson, John Randall Salyer, Jimmy Wendell Salyer, Tim Oldham, Josh Oldham and Phillip Brockman. Honorary pallbearers are Kedrick Sanders, Gary Tucker and Jeff Adkins.

The family would like to thank Dr. Tawee Tanvetyanon and the staff of Moffitt Cancer Center for their care during his illness. Memorial contributions may be made to Moffitt Cancer Center Foundation at 12902 Magnolia Drive, MBC-FOUND, Tampa, Florida 33612.