Jenkins Independent Schools
Classes of 1912 - 2019
In Memory
Trenton Paul Carty - Class Of 2014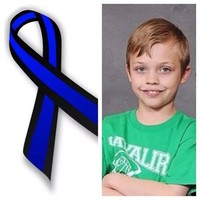 Trenton Paul Carty, age 8, of Jenkins, Kentucky, passed away on Wednesday May 7, 2014 at the Whitesburg Appalachian Regional Hospital, Whitesburg, Kentucky, due to injuries sustained from a bicycle accident. He was born on September 25, 2005 at Pikeville, Kentucky and was a lifelong resident of Letcher County, Kentucky. Trent was an energetic child with a heart as big as the world. He was very loving and protective of his family, especially his sister, Arabella. Trent greatly enjoyed spending time with his family, especially his brothers and sister, spending time with members of the community, especially his friend Jacob, swimming, hiking, playing video games, playing basketball, going to church, ATVing, drawing, which he possessed a talent far beyond his age, and was a noted Batman fan. Trent was very involved with computers and enjoyed making movies on his laptop and taking pictures on his Ipad. Trent was well known for being very compassionate and willing to help other regardless of the task. Trent had an outgoing and mature personality and had a number of adult friends. He acquired several nicknames from friends and family but was proud and most noted for "stripe" from the film Gremlins, which was given by his granddad, who he was very close with. Trent had a smile that could light up a room and capture your heart. He had a passion for magic and possessed several magic kits and was very proud of the card tricks that he had recently learned and was able to perform very well. Trent was often described as a very generous little fellow that would give anything of his to anybody. He was a third grade student at the Burdine Elementary School, where he held the distinction of remaining on honor roll, since his enrollment, and attended the Burdine Freewill Baptist Church, where he carried his "holly" bible when in attendance.
Trent was preceded in death by maternal grandfather, Paul Sanders; his paternal grandfather, Verlin Keith Carty, Sr; his maternal great-grandfather, John DePriest; and his paternal great-grandfathers, Hubert Carty and Jack Redman.
Survivors include his parents, Verlin Keith Carty, Jr., and Megan Lynette Carty, of Jenkins, Kentucky; a sister, Arabella Annalee Carty, of Jenkins, Kentucky; two brothers, Verlin "Trey" Keith Carty, III., and Ethan Alexander Carty, both of Jenkins, Kentucky; his maternal grandmother, Cindy Sanders, of Jenkins, Kentucky; his paternal grandmother, Dana Carty, of Wise, Virginia; three great-grandmothers, Marilyn DePriest, of Lexington, Kentucky, Nancy Redman, of Norton, Virginia, and Hilda Marie Carty, of Vermillion, Ohio; an aunt, Hannah Carty, of Wise, Virginia; two uncles, Michael Sanders, of Jenkins, Kentucky, and David Carty, of Wise, Virginia; and a host of other family and friends.
Visitation will be held on Friday May 9, 2014 after 5:00 PM and Saturday May 10, 2014 after 3:00 PM at Jenkins High School. Funeral services will be held on Monday May 12, 2014 at 1:00 PM at Jenkins High School with Tim Bailey, Van Webb, Mark Wagoner and Jeff Slone officiating. Entombment will follow at Temple Hill Memorial Gardens Mausoleum, Castlewood, Virginia.