Jenkins Independent Schools
Classes of 1912 - 2019
In Memory
Burton Bradley - Class Of 1954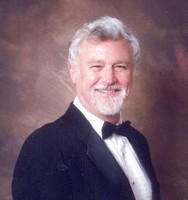 BRADLEY, Ph.D. A. BURTON
Atlanta psychologist and former media personality, died on Wednesday, October 5, 2011, after a short illness.
Born in McRoberts, KY, on March 24, 1936, Bradley grew up in Jenkins, KY, attended college at the University of Kentucky, earned bachelors (English) and masters (counseling) degrees at Eastern Kentucky University, did advanced graduate work in counseling at Florida State University and Hunter College, NYU, and earned a doctorate in higher education administration at Wayne State University. Later he took courses in clinical psychology at Georgia State University and was for many years licensed in the State of Georgia as a psychologist. He played football at UK and EKU. Bradley worked as a teacher (Winchester, KY), counselor (Garden City, MI), football and wrestling coach (MI), trainer and administrator in federal education programs (Detroit, MI, Washington, DC, and Atlanta, GA), clinical psychologist, management consultant, and health and personal growth trainer (Atlanta, GA). He was the co-founder of the personal growth training Lightstyle, and the creator of the health and wellness trainings known as "How to Lose Weight and Never Find it Again," "Fearless Flyers," and the "IQ (I Quit Smoking) Training." He also had shows on WRNG radio and WATL television, and he was the recipient of numerous awards from professional and community organizations. Since his retirement, he has devoted his time to writing, particularly about his memories growing up in eastern Kentucky.
Bradley was preceded in death by his daughters Stephanie R. Bradley, Sharon Smith, and Sandra Miller. He is survived by his wife of 37 years Mary Jo Duncanson (Decatur); ex-wife Mary Jane Tucker (Perryville, KY); daughter and son-in-law Suzanne and Wayne Madsen (Conyers), daughter Sheryl Bradley (Lawrenceville), son Ben Bradley (Decatur), son-in-law Donnie Smith (Springfield, KY); grandchildren Daniel and Taylor Smith, Joseph, Alexandria, and Analyse Madsen, Heather Hornsby, Lauren Mallard, and Alexander (Miller) Rengifo; great-grandchildren Allison and Coby Hornsby and Adelyn Smith; brothers Philip Bradley and Danny Joe Bradley (Miami, FL); and numerous cousins, nieces and nephews.
A memorial gathering is being planned for a date to be announced. In lieu of flowers, the family wishes for donations to go to Winship Cancer Center of Emory University or The Wilderness Society.